Chef Jacquie Recipe
Ingredients:
1-1/2 pound pork loin filet, remove excess fat and sinew
1/2 cup of flour, for dredging
3 eggs, beaten
2 cups of Panko breadcrumbs (I use 1/2 Cento and 1/2 Vigo)
Oil for frying (safflower or peanut)
Salt and Pepper
Cut pork loin into 1/2 to 1 inch thick slices.  Place slice in between 2 pieces of plastic wrap and with gentle pressure, pound into thin schnitzel.  I use a Noraro meat pounder, stay away from mallets, especially the ones with spikes.
Set up your breading station.  Season flour dredge, egg wash and breadcrumbs with salt and pepper.
First step, dredge schnitzel through flour, both sides, and then shake off excess flour.  Second step, dip schnitzel in egg wash.  And, third step, place schnitzel into the breadcrumbs and coat both sides.
Frying schnitzel is the next step — this can be done two ways, a deep fryer or in a heavy pot.  I use my Le Creuset, it works perfectly every time.  Fill pot up 1/3 of the  way with oil and ignite range top, set to high heat.  Oil temperature should reach 350 degrees.  Test by adding a few breadcrumbs to the pot, if they bubble up, time to fry your schnitzel.  Do not crowd the pot with lots of schnitzel, take your time and cook about 3-4 at a time.
Remove and place them on a wire cooling rack — and immediately season, by adding a dash of fine sea salt to the schnitzel.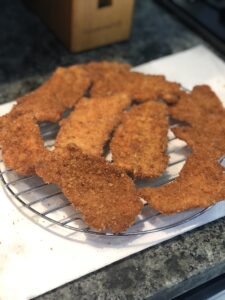 Serve schnitzel on a platter with lemon wedges.